What ages do you cut hair for?
We're actually not just a salon for kids only! We provide quality haircut and styling services for anyone aged 5 months and up – including tweens, teens and adults! Sorry parents, you won't be able to enjoy hair styling in one of our kids salon chairs (such as fire engine or tractor)! For additional information on our adult and kids haircut and kids hair styling services, please contact us.
---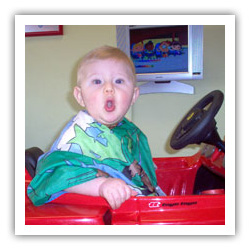 What do you offer for a child's first haircut?
A first haircut is indeed a special occasion! You're youngster will only have one first haircut. To make this special occasion even more special, we'll take a photo and you'll receive a special first haircut certificate marking the event — with a lock of the child's hair saved. For additional information and to schedule your child's first haircut at Locks of Fun, please contact us today.
---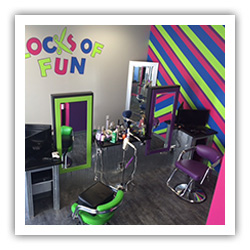 Do you take appointments?
Yes we do. The salon is appointment based. We work by appointment so the kids do not have to wait and are not distracted by so many people and families waiting in the fun family area. We take pride in giving children the best possible experience a trip to get a haircut can be.
---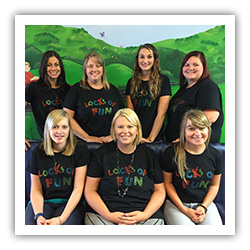 Do you staff experienced hair stylists?
Most definitely! Our stylists average a combined forty years of experience in the business. In fact, none of our stylists are hired directly out of beauty school. We look for stylists with experience and ability to cut and style both adult and childrens' hair.
Click here for current employment opportunities.
---
What types of hair do you cut?
We cut and style all types of hair – straight or curly, thick and wavy or fine hair. Do you (or does your child) have hair that is challenging to cut and style? No job is too challenging for the stylists at Locks of Fun!
---
What makes your hair cuts special for kids?
Well, it's not everywhere you can get a haircut in kids salon chairs such as a police car while watching a movie! Children can choose from kids salon chairs such as police cars to Barbie jeeps, from tractors to fire engines! Plus, they get their choice of a DVD movie to watch or Game Cube or Xbox game to play, which help to make the time go by faster. They'll enjoy FREE popcorn and juice too. When they're done, they'll receive a coupon for a FREE special treat at a nearby store! All of these "rewards" make getting a kids haircut worth it for just about any child!
---
Why are there no mirrors in your salon?
We have found that, children who are upset during a kids haircut, get the most upset when they can see their hair being cut. So, we've removed the mirrors! Instead of mirrors, we feature flat screen television displays, where kids can watch their favorite movie or play their favorite Game Cube or Xbox game. Removing the visual complication and replacing it with a pleasant distraction makes a kids haircut more pleasant!
---
What can my child do while waiting for their appointment?
While your child is waiting, we feature a fun play area with a slide, as well as an interactive train table. Plenty to keep your kids occupied for the few moments while they wait their turn!
---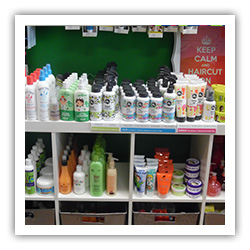 Do you carry hair care products that are kid friendly in your salon?
Yes we do! We feature a complete line of Circle of Friends®, SoCozy® and Johnny B® products, including shampoos, conditioners, styling aids, detanglers and more! For the adults, we carry a wide variety of products as well.
---
Do you offer any additional special programs?
Yes we do! Get nine haircuts and receive the TENTH haircut HALF-OFF! For complete details, please contact us.
---
What' about your E-Mail Club?
By signing up for our E-Mail Club, your child will receive a coupon for $2.00 off their haircut anytime in the month of their birthday! Plus, you'll receive notification of upcoming specials and promotions as well! Sign-up online today!
---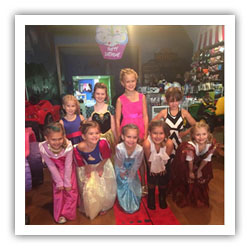 Do you host birthday parties?
Yes we do! Make your child's birthday party even more spectacular at Locks of Fun! Exciting kids birthday party offerings include up-dos and complete hair styling (sorry, cuts are not performed at birthday parties), colored gel, manicures, temporary tattoos and more! They'll end the fun with a Fashion Show and a walk down the Red Carpet – complete with fun costumes! Please note: A minimum of eight children are required for parties; no maximums. For additional information and availability on birthday parties at Locks of Fun, contact us today!